Enter the Arena to participate in the Thawfest Games. Here, you will battle against other player's Defense Teams and earn rewards. This feature is unlocked at player level 10.
The Thawfest Games
Each season last 14 days.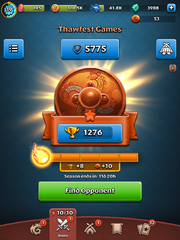 Trophies are reset by 50% at the end of a season. Rewards refresh each seson.
Medals
You can see your 

count on the very top right.
Each defeated dragon will give you a medal. You can spend these medals on items in the Thawfest Emporium.
Battle summary
Click on the Battle Summary button on the top left to see who you fought in the past and how many medals and trophies you earned.
Shields are for Defense and Swords for Attack. You can see the result and the impact your Dragons had.
Click on each entry to view the details and retry/revenge if you want to face the same opponent team again.
Defense team
Access your Defense Team by clicking on your Defense Points on the top of the Arena menu. Set up a Defense team for other players to battle. Succesion of 3 enemies at a time. If a dragon is defeated, it is replaced by the next dragon in the denfense team. Climb the ladder to unlock new defense team slots.
You can battle against and test your own team by clicking the Practice button. This cost no

and will not affect your Trophy or Medal Count.
The Thawfest Emporium is a market that offers great deals on resources and Dragons in exchange for your medals. Access it by clicking on the hut button on the top right in the Arena section.
Click on your Trophies to see where you are at in the ranking and who is on top of the leaderboard. The ranking status reaches from "Wood" to "Crystal". The more trophies you earn, the higher your ranking will be.
Finding an opponent
Find an opponent!
Each player has 10

. Each battle cost 1

and the

regenerates over time.
If you're facing a team that is way too strong, you can re-roll the selection and find a new opponent within your Trophy range. You get 3 fre rerolls and each takes time to recharge. If you run out of free rerolls the next one will cost 10

Each win adds to your Win Streak and will grant Bonus Trophies and Medals. A Win Streak ends with your next defeat. Once in a battle you can see how many Medals you win and how many enemy dragons are left to defeat.
All items (2)