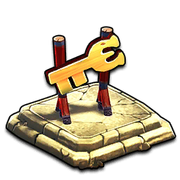 The Duty Board unlocks at player level 3. Build the character homes by leveling up the duty board building and in return the Berk Riders will give you duties. As a reward for completing a duty you'll earn 3

and a key (

). Collect enough keys and you'll be able to open a Viking Chest, which will give you some great resources.
The difficulty of the duties given by the Berk Riders depends on the chest you choose to try and open. If one of these duties is too difficult to complete, you'll be able to re-roll the duty by using the re-roll button(

) on the top right corner of the duty. However,you are only able to use it once every 22 hours. Also, the difficulty of the duties depends on the chest you are currently working to open. And only 1 chest can be opened every 8 hours, so be careful which one you choose.
Viking Chests and its Contents
| Chest | Easy | Medium | Hard | Flight Club Easy | Flight Club Medium | Flight Club Hard |
| --- | --- | --- | --- | --- | --- | --- |
|  Cost | 5 | 10 | 15 | 5 | 10 | 15 |
| | 10 | 20 | 30 | 20 | 30 | 40 |
| | 5k | 10k | 15k | 10k | 15k | 20k |
| | 5k | 10k | 15k | 10k | 15k | 20K |
| | 3 | 4 | 5 | 3 | 4 | 5 |
| | / | 1 | 2 | / | 1 | 2 |
| | 20 | 45 | 90 | 25 | 50 | 100 |
| | 3 | 6 | 9 | 6 | 9 | 12 |
| Sheep | / | / | / | 3* or 4* | 3* or 4* | 3* or 4* |
| | / | / | / | 3 | 6 | 10 |
| | / | 1 | 1 | / | 1 | 1 |
Duty Board Upgrades
Trending pages
All items (1)