In drafts, you have a chance to get a new skillful Dragon from the Academy pool. Note: Dragons that are displayed are just example Dragons, the draft will be random.
Basic Dragon Draft
In the Basic Dragon Draft you have a chance at getting 2

or 3

Dragons. A free draft for this becomes available every 6 hours. It is also purchasable with 100

or a Basic Draft Token (

). The latter of which can be obtained in the following ways:
Premium Dragon Draft
In the Premium Dragon Draft you have a chance at getting 3

to 5

Dragons. It is purchasable with 400

or a Premium Draft Token (

).
Daily Draft
Each day a there is a different draft in which the chance to get a 5

of a specific color is increased.
Other Special Drafts
Sometimes Limited Time Drafts appear, in which specific dragon species have significantly increased chances of appearing or that give trust depending on the rarity of the dragon received.
Species Draft: Higher chance to get Dragons of a certain species and usually takes place while a ranking run of the same species is ongoing.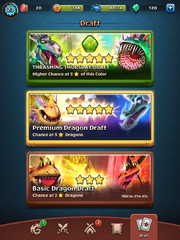 Community content is available under
CC-BY-SA
unless otherwise noted.