Jurassic World: Dominion Dominates Fandom Wikis - The Loop
Play Sound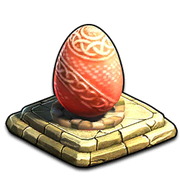 The Hatchery is specifically designed to provide the warmth needed to hatch a healthy Baby Dragon. In order to use it, you must reach player level 4.
Eggs found in the wild are being transported to Berk and kept until needed for hatching. The number of eggs you can store depends on your level.
You can queue hatching of more than one Dragon at a time by using the plus symbol under the egg. The hatched Dragon will go directly into your Roster and Book of Dragons. The Double Egger upgrade will let you hatch 2 different type of eggs at a time.
Upgrade the Hatchery to hatch Dragons of different colors and rarities.
Hatchery Upgrades
Hatchery Level
Rarity
Color
Upgrade Conditions
Player Level
1
Common 1
All
4
Free
Instant
2
Uncommon 2
9
10k
1h
3
Uncommon 2
13
20k
1h 30min
4
Uncommon 2
18
30k
3h
5
Double Egger
22
40k
6h
6
Uncommon 2
26
50k
6h
7
Uncommon 2
30
60k
6h
8
Rare 3
All
34
100k
8h
9
Rare 3
38
110k
10h
10
Rare 3
39
120k
10h
11
Rare 3
41
130k
10h
12
Rare 3
42
140k
10h
13
Rare 3
46
150k
10h
14
Triple Egger
47
175k
12h
15
Epic 3-4
All
48
200k
15h
Dragon Hatching
Rarity
Color
Resource Cost
Common 1
All
10
None
1500
10min
Uncommon 2
10
1
3000
30min
Uncommon 2
10
1
3000
30min
Uncommon 2
10
1
3000
30min
Uncommon 2
10
1
3000
30min
Uncommon 2
10
1
3000
30min
Rare 3
All
50
None
30k
12h
Rare 3
50
1
60k
16h
Rare 3
50
1
60k
16h
Rare 3
50
1
60k
16h
Rare 3
50
1
60k
16h
Rare 3
50
1
60k
16h
Epic 3-4
All
200
None
100k
24h